Revenues Beat Record Year of 2008
Steve Dibert, MFI-Miami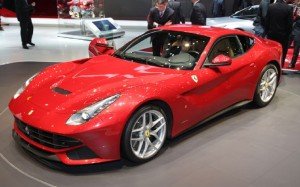 Ferrari announced they have broken all previous records sales and profits due to in increase in 2012. The report was dazzling in every aspect as the website, Testosterone Pit writes, "Not a single cloud darkened the horizon. Except in Italy where sales collapsed. And in the rest of the world, where central-bank printer ink stained the records."
Ferrari says that their worldwide revenues rose 8% from prior year, to €2.43 billion, exceeding the previous record set in 2008 before the financial crisis rattled the nerves of the rich. A total of 7,318 cars were delivered to dealers, up 4.5%. Price increases stuck. Net profit jumped 17.8% to €244 million. And the company sat on an industrial net cash position of over €1 billion.
Ferrari Chairman Luca di Montezemolo stated, "We are all enormously proud of ending the year with these kinds of results despite the unfavorable economic backdrop in many European nations, and the distinctly hostile one in Italy.  The credit for this goes to the men and women in Ferrari, the strength of the brand, a very complete and highly innovative range, and our gradual expansion into automotive markets worldwide."
The 2012 results are in line with the company's geographical sales distribution plan which is divided into equal parts between America, Asia and Europe, including the Middle East. To further boost its presence on the various markets, Ferrari has reorganised its commercial network so that it now has four coordination centres: America, Europe and the Middle East, Greater China, Far East. Ferrari enjoyed record sales in the USA in 2012 with deliveries there exceeding the 2,000-car mark for the first time (2,058), an increase of 14.6 per cent (Canada included).
Europe performed very impressively with deliveries in Great Britain up by 20.4 per cent (673 cars), and by 17.4 per cent in Switzerland(357). Germany (750 cars, +8.2 per cent) confirmed its position as Ferrari's most important market in Europe, while other main Countries in the area ended the year in line with 2011.
Results from Italy couldn't have been more different: despite performing better than the average in a sector that registered a 60 per cent drop in sales in 2012, Ferrari ended the year with 318 cars delivered to dealerships, a 46 per cent decrease on the 2011 figure.
The positive trend in the Middle East and Africa continued with an increase of 4.5 per cent with deliveries of cars rising to 556. Greater China (People's Republic of China, Hong Kong and Taiwan) retained its position as the second largest market with a record 784 cars delivered (+4 per cent), just under 500 of which went to China. Japan, a long-established Ferrari market, made a significant return to double-figure growth (+ 14.4 per cent), with 302 cars delivered.
The Testosterone Pit credits Ferrari's brand management by saying, "Ferrari, 90% of which is owned by its illustrious sister Fiat and 10% by Piero Ferrari, is doing a lot of things right. In addition to building fabulous cars that few people can afford to buy and that fewer still can afford to drive on a daily basis—they're assets, not transportation—it excels in brand management: Brand Finance just anointed it the most valuable brand in the world, based on financial metrics and qualitative measures, in an arena where Apple, Coca-Cola, and other giants are slugging it out!"