Foreclosure Fraud Operation Uncovered At Multi-state Foreclosure Mill Orlans Associates. Linda Orlans Has Strong Ties To The MI GOP
Several months ago, the major banks sounded the all-clear signal regarding robo-signing in non-judicial foreclosure states, namely Michigan and Massachusetts.  It appears those claims of non-exist robo-signing were either greatly exaggerated or were overly optimistic. MFi-Miami has uncovered a foreclosure fraud operation at Detroit law firm with strong ties to the Michigan GOP
MFI-Miami has uncovered evidence of a foreclosure fraud operation containing forged documents drafted and signed by attorneys and employees at Orlans Associates. These fraudulent documents will impact tens of thousands of foreclosures done by Ally Financial, Bank of America, Deutsche Bank, JPMorgan-Chase, Fannie Mae and others in Michigan and Massachusetts over the past five years and makes the investigation being done by Ingham County Register of Deeds, Curtis Hertel, Jr. and Oakland County Clerk Bill Bullard into the robo-signing of Linda Green at the now defunct DocX look like a kindergarten production of the movie, The Firm.
Don't get me wrong, I'm glad Michigan politicians are looking into this. However, mortgage activists around the country have known about Linda Green's many different signatures for nearly two years now.  Matter of fact, the robo-signing scandal that got the attention of Mr. Hertel and Mr. Bullard had already brought down one major foreclosure law firm in Florida.  The Law Offices Of David J. Stern closed their doors last month after his firm was fired by the major lenders for robo-signing.   A second firm, Ben-Ezra & Katz is teetering on verge of collapse.  Four other firms in Florida are under investigation by the Florida Attorney General and by the FBI.  The Law Firm of Steven J. Baum in New York is under investigation by the New York Attorney General's office of New York Attorney General Eric Schneiderman threatening criminal charges.
Lender Processing Services is a another foreclosure fraud operation. LPS is the parent company of Linda Green's former employer is under investigation by both the Florida Attorney General and the federal government.  National Title Clearing, LPS's competitor, also out of Florida is also under investigation after video depositions of their employees admitting to Robo-signing were blasted all over the web.   Unfortunately, Michigan politicians apparently had their head in the sand for the past four years are going to be left with the table scraps. States like Florida, Ohio, Massachusetts, New Jersey and New York, who were at the forefront of this fight were the first ones to the buffet table of foreclosure fraud and now will be the first to pick a prize.
How motivated Republican Michigan Attorney General Bill Schuette will be to launch an investigation into the activities at Orlans Associates remains to be seen.  Linda Orlans has deep pockets.  She owns a $4 million home in one of the wealthiest communities in the mid-west and has contributed quite generously to the Michigan Republican Party by giving them $10,000 last year alone and between her and her daughter, Alison who is CEO of Orlans' title operations and their Virginia law firm Atlantic Law Group, gave former Oakland County Clerk Ruth Johnson $7200 for Johnson's successful campaign for Michigan Secretary of State.  The money she gave to the Michigan GOP indirectly helped fund Bill Schuette's campaign for Attorney General and other Republican candidates including Governor Rick Snyder, Secretary of State Ruth Johnson, and Michigan Supreme Court Justice Robert Young.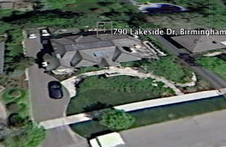 I began this investigation after Oakland County Judge Martha Anderson refused to hear claims of attorney misconduct in the Lynne Lucas case. I admit I was pretty ticked.   I wasn't angry because Judge Anderson ruled against Lynne Lucas who has cancer but because Judge Anderson is clearly prejudiced against homeowners because it appeared she handed down a scripted verdict that was written several weeks before the hearing.
Lucas' attorney, William Maxwell and I already knew there was a signature issue with an affidavit in the case.  So, I began pulling random samples of affidavits and mortgage assignments allegedly signed by Attorney Marshall R. Isaacs (Michigan Bar #P41142).  As you may recall from previous articles, his signature on the post-foreclosure purchase affidavit in the Lucas case did not match the signature to the mortgage to his house and this led to me filing a Request For Investigation with the Michigan Attorney Grievance Commission against Linda Orlans, Marshall R. Isaacs and Timothy Myers, all attorneys at Orlans Associates.
What my title researchers, Suzie Baker in Ann Arbor, Michigan and Mike Dillon in New Hampshire found was shocking. Of the 13 affidavits and mortgage assignments we found in the Michigan counties of Benzie, Delta, St. Joseph, Oakland, Washtenaw, and Wayne, there are about nine variations the signature of Marshall R. Isaacs that do not match the mortgage to his house.   I expected to see one or two variations of Isaacs' signature but not nine.
In all of these cases, the notary claims they witnessed Marshall R. Isaacs sign these documents.  Each variation of Isaacs' signature also has it's own specific notary stamp.  For example, if you look at the signatures that look like the letter N with a loop, these are notarized by Annette A. Matthews.  Annette Matthews apparently has three different signatures as well.   The signatures that are one big loop are both notarized by Andrew A. Collins.  This particular style is what appears on the post-foreclosure purchaser's affidavit in the Lucas case.
The Many Signatures of Marshall R. Isaacs
Mike Dillon found a mortgage assignment Marshall Isaacs signed on behalf of MERS assigning a mortgage to BAC Home Loan Servicing, LP in Middlesex County, Massachusetts where half the signature is not legible.  The half that is legible makes it clear it is not Marshall Isaacs' signature.
This is not the first time Orlans Associates has been caught violating the law.  Several months ago, Orlans along with Deutsche Bank and Morgan Stanley were forced to pay an undisclosed settlement to a Michigan National Guardsman because they violated the Servicemembers Civil Relief Act, by illegally foreclosing on his home and evicted his wife and children while he was dodging IEDs in Iraq.
Orlans Associates in Detroit and their sister company in Boston, Orlans-Moran handle foreclosures in five states, Massachusetts, Michigan, New Hampshire, Rhode Island and Virginia with all the processing being done out of their Troy, Michigan location.  Their major clients include Ally Financial formerly known as GMAC, American Home Mortgage Servicing, BAC Home Loan Servicing, LP, Deutsche Bank, JPMorgan Chase, Fannie Mae, Freddie Mac, Key Bank and Morgan Stanley who owns Saxon Mortgage.   The managing partner of Orlans Associates, Linda Orlans started a title insurance company several years ago named eTitle which operates out of the same offices in Troy, Michigan as her law firm.  She also started a foreclosure auction house named Towne Auction, which handles foreclosure auctions in Massachusetts, New Hampshire and Rhode Island.  In 2009, Orlans purchased the assets of Atlantic Law Group in Leesburg, Virginia with Linda Orlans' daughter Alison as CEO.
Foreclosure law firms like Orlans and their cross-town rivals, Trott & Trott have followed the business model of other foreclosure mills across the country by starting or buying title companies so they could hide any assignment issues such as forged assignments and affidavits from the public.  The theory was that the quicker they could remove someone from a home the less likely anyone would notice that fraud was being committed.
The next hurdle in solving this mess is finding enough politicians with the testicular fortitude to take on someone like Linda Orlans.  If there are any politicians out there willing to take on Linda Orlans, call me.  I have your back.